Stephen Kenny's appointment brings echoes of the last time Ireland appointed a home-based coach to the senior international job, with the remit of reinventing a stale Irish side with an injection of young, promising footballers.
I have a personal motivation for undertaking a retrospective of Brian Kerr's Ireland tenure. I was fourteen years old when Ireland won the U16 and U18 European Championships, eighteen when Kerr got the senior job, and twenty-one when he was sacked. I spent my most formative years, the years that shaped my personality as an adult, truly believing that a great era of Irish footballing dominance was on the horizon – a generation of success to eclipse anything achieved under Jack Charlton. As a teenager, I played out those fantasies on Pro Evolution Soccer, where my genetically-modified Irish teams swept to World and European glory; Stephen McPhail threading sumptuous passes for Robbie Keane; Damien Duff and Richie Partridge cutting through defences with Maradona-like evasiveness; Richard Sadlier dominating in the air like an Irish Oliver Bierhoff. That was, I hoped, the true destiny of the Irish team in the New Millennium, and Kerr would be the man to deliver – as soon as Mick McCarthy did the decent thing and finally stepped aside.
In time, those dreams and expectations would be mercilessly crushed – the triumph of harsh, worldly reality over the fantasies of a naïve, hopeless romantic.
Kerr had been around a while – a spell as assistant to Liam Tuohy in the youth setup in the mid-eighties came to an end when Tuohy clashed with Jack Charlton, and Kerr remained a critic of Big Jack's style of play and abrasive relationship with native coaches. He had a fruitful period with St. Patrick's Athletic in the late eighties and nineties before taking the Irish youth job, winning two titles. He was known for being that rarity in the mostly amateur Irish domestic game – an ambitious, knowledgeable professional. A semi-final appearance for Ireland in the 1997 World Youth Cup was unprecedented, made even more impressive by the fact that it wasn't a star-studded Irish squad – Damien Duff was the only player who would go on to make a competitive senior appearance. It was a team of future journeymen and League of Ireland stalwarts that eliminated Spain, and competed so manfully against an Argentina side boasting Samuel, Riquelme, Placente, Scaloni, Cambiasso and Aimar. It spoke volumes about Kerr's ability to take a rag-tag group and get them playing confident, constructive, winning football.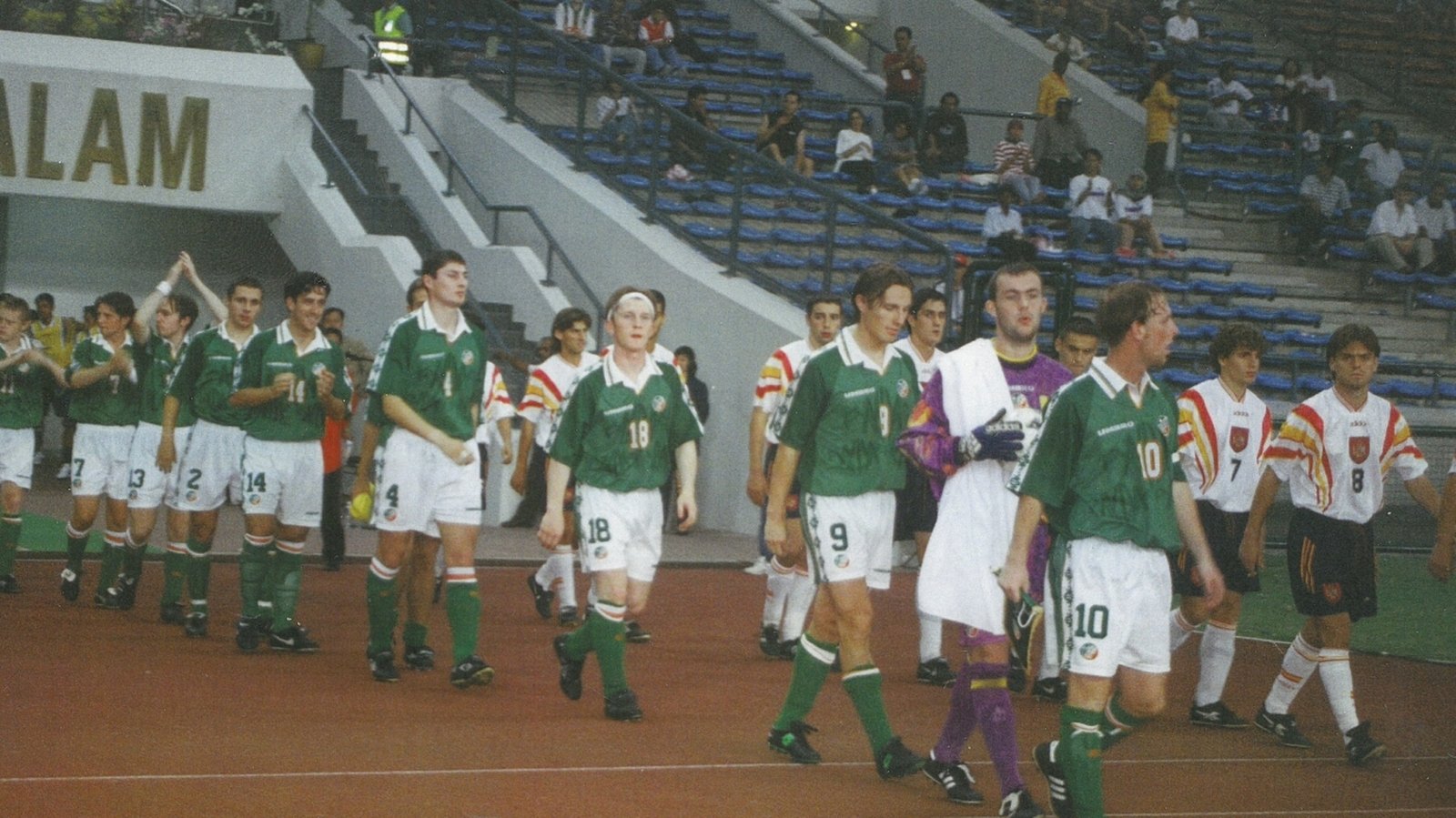 Later, he would also prove capable of taking strong, highly-rated squads, and delivering on expectation. The 1998 European Youth Champions boasted not only Robbie Keane and Richard Dunne, but future caps Barry and Alan Quinn, Gary Doherty, and Stephen McPhail, as well as the highly-rated Jason Gavin and Richie Partridge, who would gain senior experience with Middlesbrough and Liverpool. From the U16 cohort, John O'Shea, Liam Miller, Andy Reid, Joe Murphy, John Thompson, Jim Goodwin and Thomas Butler would all win caps, while Colin Healy and Richie Sadlier (in the group that competed in the 1999 World Youth Cup) were also future internationals. In 2002, the Irish U-18 squad came third in the European Championships and qualified for the 2003 World Youth Cup – from that squad, Stephen Elliott, Stephen Kelly, Glenn Whelan, Kevin Doyle and Keith Fahey would eventually be capped.
It was a seemingly phenomenal stream of Irish talent, brought through by a man who could seemingly harness their abilities, create an ambitious, positive environment, and encourage them to compete to the fullest of their potential – to beat the future stars of Spain, England, Croatia, Italy, Portugal, and Germany.
While Kerr was making a name for himself, McCarthy's senior side were struggling. The autumn of 1999 was an exasperating time – a squad which had shown itself capable of beating Croatia and Yugoslavia was reduced to a rabble by some bizarre decisions and monstrously negative football. Washed-up veterans like Cascarino and McLoughlin were stinking up the side, and when Roy Keane was injured, the midfield was patrolled by unimpressive, one-dimensional, English-born journeymen like Carsley and Holland. The immense talent of Damien Duff was reduced to hugging the touchline, hoofing crosses into the box, with Gary Kelly out of position on the other side. Turkey passing Ireland off the pitch in Lansdowne was a low point, when placed in such stark contrast to the youth teams' excellence; it seemed farcical that Stephen McPhail was ignored despite playing well for a top-three Premiership team and UEFA Cup semi-finalist, while the incumbents – Kinsella, Carsley, McLoughlin and Holland – were all plying their trades in the English second tier.
McCarthy's fortunes changed dramatically when he abandoned the negative tactics and tried a more progressive approach (who knew?) but even throughout the 2002 World Cup campaign, and the coming of age of Dunne, Keane and Duff, there was a sense that this was just the beginning. When Kerr eventually took the job (a prospect that seemed more likely in the fallout of Saipan), it seemed certain that the older, willing but limited senior pros would be cast aside to allow the more dynamic, pacey, technical young players to make their mark. By 2002, O'Shea was playing first-team football at Man United; Partridge and Barrett had debuted for Liverpool and Arsenal; Healy had made a European debut for Celtic; Sadlier was scoring goals in the First Division; Andy Reid had broken into Nottingham Forest's team at eighteen; McPhail, the Quinns, Doherty and Gavin had built up a good body of Premiership experience and not looked out of place. Barrett and Healy demonstrated their potential by scoring in a post-World Cup friendly against Finland. There was also an outstanding young Shelbourne playmaker called Wes Hoolahan who looked destined for a career at a higher level, and was named in a senior squad towards the end of the year. While Saipan had divided the country, and the Far East adventure had been compromised by thoughts of what could have been, the future still looked bright.
Graham Barrett, with Kilbane and Healy, celebrates his first goal for Ireland
Kerr's appointment looked like a rare sensible decision by the FAI. Names like Bryan Robson and Philippe Troussier hadn't inspired confidence, and David O'Leary had unfinished business with Leeds. Shorn of Roy Keane, Ireland had looked tired and bereft of ideas in their home defeat to Switzerland. Without their disgraced former captain to cajole and elevate those around him, the likes of Breen, McAteer, Holland, Kinsella and Kilbane looked incapable of adding anything beyond blundering, misdirected graft. It was 1999 all over again, and the departure of McCarthy came as something of a relief. Ireland needed a coach with imagination and ambition; a belief in youth and a progressive style of football; someone who would encourage the best from his players. Kerr seemed like a perfect fit.
It was curious, then, to see the same old, same old for the game away to Georgia. A midfield of Carsley (on the right wing, bizarrely), Holland, Kinsella and Kilbane laboured to a 2-1 win in Tbilisi and an uninspiring four points against Albania, the home game won with an own goal in the last minute after a dreadful display. The 1-1 draw at home to Russia was equally dismal, and the campaign petered out with an insipid defeat in Switzerland. Kerr hadn't made any changes, aside from bringing John O'Shea into the starting XI. It was understandable (in a way) to give players who had done so well in 2002 one more campaign to show their worth before genuinely reinventing things, but it should have been clear from the outset that some players were spent forces, or just technically not up to it. Andy Reid and Liam Miller made their debuts in the 2003/4 friendlies, while Barrett and Alan Quinn shined in an excellent 1-0 win in Amsterdam in June 2004. It seemed like this was the template for Kerr to build his team for the 2006 qualifiers. With Roy Keane committed to a return, it would have made sense to populate the other midfield places with younger, faster and technically adroit players.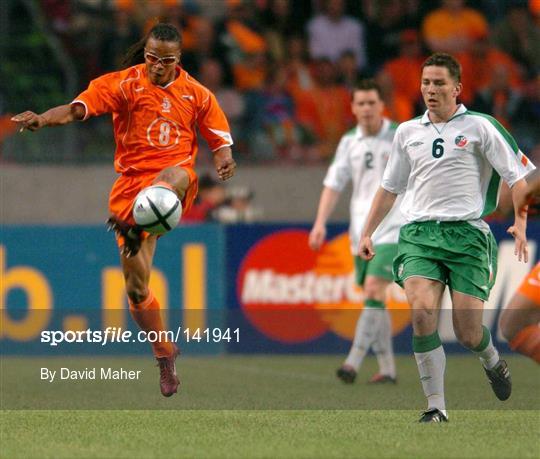 One of the big quandaries was the almost-inexplicably bulletproof status of Kevin Kilbane. A weak link in the 2002 side, his hard running, aerial ability and defensive work was compromised by an infuriating propensity for wasting possession through poorly-controlled balls and wayward distribution. A James McClean prototype, one might say. Kerr kept faith with him, often relegating Duff to positions on the right and up front where he was less effective. Instead of dropping him, Kerr decided to accommodate him in central midfield, the logic being that his athleticism would prove an effective foil for Roy Keane – still a force, but a significantly less mobile player than in times past. Sometimes, it worked; other times, Kilbane's technical limitations and headless ball-chasing were exposed even more ruthlessly than on the wing. In retrospect, Steven Reid would have been a much better central midfield partner – even the more diminutive Miller, Andy Reid or McPhail would have benefited from the freedom of playing alongside one of the world's best defensive midfielders. It's a great pity that Colin Healy was so badly affected by a succession of serious injuries.
The experiment seemed to be working, as Ireland topped their group in the autumn of 2004, drawing away to Switzerland and France. The latter was a particularly eye-catching performance, as Ireland passed with confidence and purpose, putting themselves in a great position with back-to-back games with Israel to come. That night in Tel-Aviv proved to be a turning point for Kerr. It was a repeat of Mick McCarthy's Skopje nightmare in 1999, when an early lead turned the game into a battle of containment, follied by a late equaliser. Kerr's negative tactics played into Israel's hands, as Ireland sat back and invited pressure, which was inevitably rewarded in front of a partisan crowd. Bringing on Matt Holland for one of the strikers – as McCarthy had done six years previously – completely ceded territory and possession, and Kerr was punished. With Ireland struggling to keep possession and establish a link with the front players, surely Andy Reid – in the form of his career – would have made more sense as an extra midfielder; but he remained on the bench. Hindsight is a wonderful thing, of course, but the sense of déjà vu was overwhelming. Kerr did exactly what McCarthy had done in his worst moment.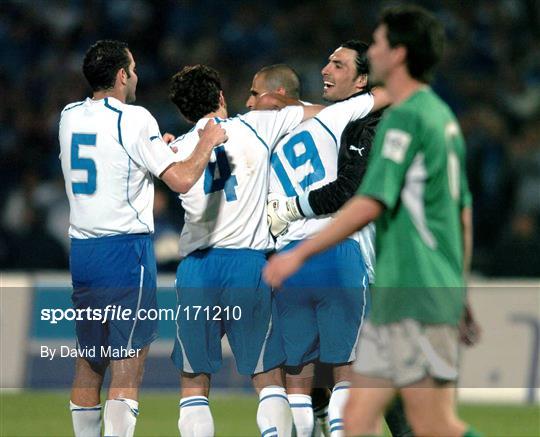 The return game was even more unforgiveable. With Roy Keane absent, Holland and Kilbane manned the centre of midfield – an alarming prospect. However, thanks to the set-piece brilliance of Ian Harte, the vision of Reid, the dribbling of Duff, and the cheeky finishing of Robbie Keane, Ireland found themselves 2-0 up. Fatefully, the Spurs striker hobbled off injured, and Kerr was forced into a decision – straight swap, or total reshuffle. He decided to bring on Graham Kavanagh – another in our long line of limited thirty-something journeyman midfielders – and push Duff up front, allowing Kilbane to go to his natural role, wasting possession on the wing. Immediately, we had two ageing, immobile players in the engine-room and virtually no attacking threat on the left, with Duff moved from where he had been causing havoc, into an isolated role alongside a static Clinton Morrison, who was having one of his more 'laid-back' games for Ireland. Israel grew into the game, and while their goals were somewhat fortuitous, it was an almost-inevitable consequence of Kerr's negative changes. While the shithousing antics of Dudu Awat provided the game with an appropriate villain, the manager's role in two dropped points could not be ignored. A few days later, Stephen Elliott made his first competitive start for Ireland against the Faroes, and showed why he would have been a much better replacement for Keane, with a lively, pacey display.
The game against France yielded a better display, with Roy Keane giving his final masterclass for Ireland, but his midfield partner had a torrid day; Kilbane constantly ran into blind alleys, looking every bit a man out of position. Henry's wondergoal gave France the win, and a first home competitive defeat under Kerr. It would be an uphill struggle to achieve a playoff place from there – Ireland would have to beat Cyprus and Switzerland.
The game in Nicosia foreshadowed the 2006 Staunton debacle, as Ireland were outclassed for much of the game. Only a magnificent penalty save from Given and an opportunistic finish from Elliott gave Ireland a 1-0 win, but there was little to suggest Ireland would have enough to overcome the Swiss. So it proved on a miserable Wednesday night at HQ, and Kerr didn't help his cause by naming John O'Shea and Matt Holland in midfield, with Kilbane seconded to the left. Shorn of Duff and Roy Keane, perhaps Ireland just didn't have the personnel to get a win, but more could have been made of the available squad. Steven Reid was sitting on the bench, surely wondering what he needed to do to get an opportunity. Liam Miller may not have excelled at Man United, but he surely would have fared better than the out-of-position O'Shea, and provided some form of passing ability and goal threat. Aidan McGeady was in the form of his life, but was still ignored when the Irish midfield needed something – anything – besides the same old huffing and puffing. There is a rough, cruel irony that the last act of Brian Kerr's Irish career – the man who was feted as a progressive believer in youth and the Beautiful Game – was a long ball hoofed by Shay Given, hoping to find the head of Gary Doherty in a crowded Swiss penalty box, as the same tired faces from McCarthy's final game in charge - Kilbane and Holland - lumbered around in midfield to the same minimal effect they had offered in the three intervening years.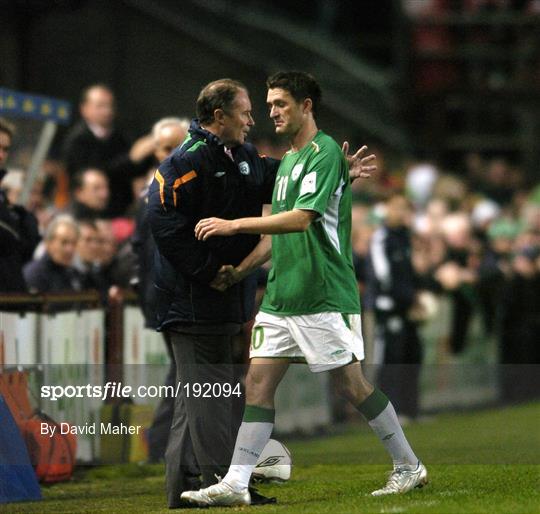 Kerr was predictably dismissed a few days later, and it was jarring to hear him, on an RTE documentary shown that Christmas, claim that 'maybe we just didn't have the players.' Kerr had at his disposal a prime Given, Carr, Finnan, Harte, Dunne, O'Shea, Duff, Robbie Keane, Andy Reid, and Steven Reid. He had a 34-year-old Roy Keane, who was still a force at international level. He had young players who did well in friendlies, but were jettisoned when the serious business began, like Miller, Alan Quinn, Barrett, Elliott and McGeady. Perhaps if Kerr had showed the kind of imagination and bravery he'd demonstrated in his underage years, an opportunity could have been found for someone like Wes Hoolahan, then playing in the SPL. Kevin Doyle was scoring goals in Europe for Cork, and later the top end of the Championship for Reading, and Daryl Murphy was making waves at Sunderland and scoring freely for the U21s, while Kerr was persisting with Gary Doherty – a centre-back who hadn't played regularly up front at club level since the age of 18, at Luton Town. Given that weaker Ireland squads have qualified for tournaments in recent history, it's clear that it was Kerr's decision making, conservatism, and lack of trust in his young players that sealed his fate.
Poor management is one factor; there is one other at play.
Kerr and his assistant, Chris Hughton, demanded a high level of professionalism from their players, a fact welcomed by Roy Keane, who was sick of the drinking sessions and haphazard preparation under both Charlton and McCarthy. However, the video and tactics sessions and all-round tight ship under Kerr did not meet with the approval of the players, many of whom saw their international breaks as a welcome change of pace from the day-to-day grind in an increasingly tactical and foreign-influenced English game. That reflects more on the players than Kerr, who was ahead of his time in this regard. Also, there have been murmurings about players, having attained wealth and status in their careers since their youth days, not taking Kerr seriously enough. It was instructive to hear Gary Breen – dropped by Kerr in favour of Andy O'Brien and Richard Dunne – talking recently about how players may not respond as respectfully to Stephen Kenny, as someone who is virtually unknown in England, as opposed to the likes of Trapattoni or O'Neill. If that was the attitude towards Kerr, then the fault lies with the 'Billy Big Bollocks' attitude of the players. Danish and Swedish players – even the big egos of Ibrahimovic and Eriksen – have always responded positively to their national coaches, even those who had never coached outside Scandinavia.
Furthermore, we have the issue of Irish players failing to make the best of their potential. Keith Foy was a promising left-back at Nottingham Forest, one of the key players in Ireland's U16 European Champions, scoring a wonderful free-kick in the final against Italy. In an
interesting interview
in 2018, he admitted that the lures of going out on the town, with the status of a young professional footballer in a medium-sized English city and the temptations it brought, were too much to resist, and he quickly went from being a regular starter for Forest to a part-timer at Monaghan United. Too many Irish players succumbed to the lure of booze and birds; too few showed the professionalism required to extract the maximum from their natural talent. Why didn't the likes of McPhail, Hoolahan and Andy Reid hit the gym a bit harder, when it was clear a lack of strength and athleticism was holding them back? Why did so many gifted players from those youth teams succumb to career-hampering injuries? This may be speculative, but could it have been substandard nutrition and fitness, and haphazard rehabbing, making them more susceptible to strains and tears, or inhibiting their recoveries?
British and Irish youth culture in the mid-2000s was one of binges and excess, and many a promising football career fell victim to it; in later years, Darron Gibson and Anthony Stokes would come to personify this wastefulness. Maybe certain players should have tried harder to give Kerr a more compelling case for inclusion. For all I've lamented over the years about Kevin Kilbane's technical deficiencies, at least he made the absolute best of his talent and showed genuine determination and professionalism throughout his career, like Glenn Whelan after him.
The Brian Kerr era will always go down as an opportunity wasted. Given, Dunne, Duff and Keane should not have waited ten years to play in another international tournament, by which time they were long past their prime. Roy Keane should have had his chance of redemption in a green shirt. The stars of the underage teams between 1998 and 2002, along with their manager, should have been able to produce on the senior stage. But the perennial Irish bugbears of fear-based conservatism and poor decision-making in our management; added to a lack of confidence, determination and self-discipline at the level of the individual, ensured that our dreams would not be realised.